West Virginia Rape Crisis Centers
Find the Rape Crisis Center Nearest to You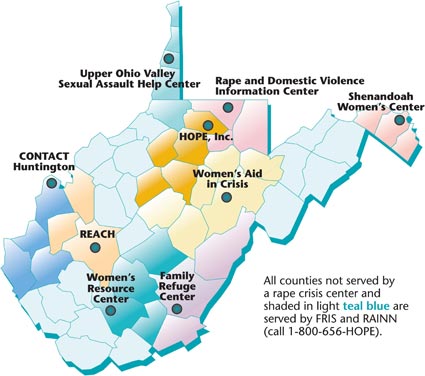 WV FRIS is comprised of nine (9) rape crisis centers in the state of West Virginia.
Use the map to select the crisis center closest to you. The color coded sections show the areas the crisis centers serve directly.
Or
Use the drop down menu below to locate the crisis center closest to you. By selecting a county from the list you will be given information on the West Virginia rape crisis center nearest to you.
West Virginia Rape Crisis Centers
Click the name of the crisis center in the table below to learn more about a specific center.
Center
Telephone and Fax
Email and Website
CONTACT Huntington
1046 Sixth Avenue
PO Box 2963
Huntington, WV 25728

Hotline: 1-866-399-7273

Phone: 304-523-3447
Fax: 304-523-0558

Website:
contacthuntington.com
Family Refuge Center
117 East Washington Street
PO Box 249
Lewisburg, WV 24901

Hotline: 1-800-645-6334

Phone: 304-645-6334
Fax: 304-645-6329

Email: frc@wvdsl.net
Website:
familyrefugecenter.com
HOPE, Inc.
PO Box 626
Fairmont, WV 26555
Hotline: 304-367-1100
Fax: 304-367-0362
Not applicable
Rape & Domestic Violence
Information Center
PO Box 4228
Morgantown, WV 26504

Hotline: 304-292-5100
Fax: 304-292-0204

Website: rdvic.org
REACH Family Counseling Connection
1021 Quarrier Street, Ste. 414
Charleston, WV 25301

Hotline: 304-340-3676
Fax: 304-340-3688

Website:
familycounselingconnection.org
Sexual Assault Help Center
PO Box 6764
Wheeling, WV 26003

Hotline: 304-234-8519

Phone: 304-234-1783
800-884-7242
Fax: 304-234-8231

Email: uovsahc@yahoo.com
Website:
www.uovsahc.org
Shenandoah Women's Center
236 West Martin Street
Martinsburg, WV 25401

Hotline: 304-263-8522
Berkeley County
304-263-8292
Jefferson County
304-725-7080
Morgan County
304-258-1078
Fax: 304-263-8559
Website:
swcinc.org
Women's Aid in Crisis
PO Box 2062
Elkins, WV 26241
Hotline: 304-636-8433
800-339-1185
Fax: 304-636-5564
Email: waic@suddenlinkmail.com
Website:
waicwv.com
Women's Resource Center
PO Box 1476
Beckley, WV 25802
Hotline: 304-255-2559
888-825-7836
Fax: 304-255-1585
Email: help@wrcwv.org
Website:
wrcwv.org
National Sexual Violence Hotline
Rape, Abuse, and Incest National Network, RAINN, operates the National Sexual Assault Hotline at:
1-800-656-HOPE
Center
Telephone and Fax
Email and Website

RAINN
2000 L Street NW

Suite 406

Washington, DC, 20036


Phone: 202-544-3064
Fax: 202-544-3556

Email:

Website:
rainn.org